Since it's founding in 1986, Western Systems Research, Inc., Pasadena, CA has established itself in the design, development and marketing of neuro-medical devices specializing in the vestibular apparatus of the inner ear. Together, the founders, Dennis P. O'Leary, Ph.D. and Linda Davis-O'Leary, RN, BA, bring an extensive background in basic and clinical research as well as direct clinical application to market.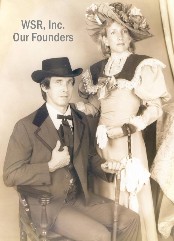 Dr. Dennis P. O'Leary, Western Systems Research, Inc. was appointed by NASA to an international committee of ten neuroscientists to comprise the Clinical Status Evaluation team for all future pre/post flight analysis of space missions, astronauts, and cosmonauts, including long term missions to Mars.
What's New at WSR
WSR contributes chapter in Balance Function & Management.
Chapter 14, "Active Head Rotation Testing"
Dennis P. O'Leary Ph.D. and Linda Davis-O'Leary RN
Editors: Gary Jacobson Ph.D.
Neil Shephard Ph.D
Plural Publishing 2007 www.Pluralpublishing.com/index.htm

NEW! Portable Postural Sway Assessment Equipment
MotionTrak™ monitors position and velocity of postural sway.
The National Safety Council states that Identification is the number one recommended medical intervention strategy. MotionTrak identifies balance problems, monitors a treatment plan and provides objective outcome documentation.
WSR was awarded a Phase II Small Business Innovative Research (SBIR) grant. The product under development and clinical investigation is designed to evaluate the response of the low frequency VOR. WSR recently received two SBIR awards. The first award is for the development of a portable, lightweight wearable product to monitor body sway. The second award is to develop a portable, self contained, oculomotor equipment for use in the office or as an emergency room or bedside test. We are aware of the changing health care environment, technological advances and the expected increase in the longevity of the population. Our mission is to serve health care providers by providing state-of-the-art medical products for diagnosis, treatment planning, rehabilitation and education.