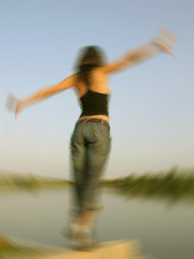 The balance test equipment was developed by Dr. Dennis P. O'Leary, who has been a professor at The University of Pittsburgh, The University of Southern California School of Medicine, and President of Western Systems Research, Inc. Dr. O'Leary's research program focuses on the vestibular (balance) system of the inner ear, analogous to the inertial guidance system on a rocket or ship. He was appointed by NASA to an international committee of ten neuroscientists (Clinical Status Evaluation Team) for all future pre/post flight analysis of space missions, astronauts, and cosmonauts, including long term missions to Mars.
Working Toward a Balanced Future.
Western Systems Research, Inc
---
WSR develops medical diagnostic equipment to assist in the diagnosis and treatment plan for patients with vertigo, dizziness, and balance problems. Clinics that can benefit from our products include balance centers, otology, audiology, physical therapy specializing in vestibular rehabilitation and sports medicine.
WSR Manufactures:
Vestibular Autorotation Test (VAT®)
Electronystagmography(ENGplus™ )