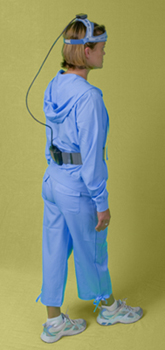 Learn how to modernize your practice!!
MotionTrak™ monitors position and velocity of postural sway.
State-of-the-Art Technology
Fall Risk Assessment
Diagnostic Screening
Monitor Rehabilitation
As many as half of your patients older than 50 years may have a balance problem. Experts now assert that falling is not an inevitable consequence of aging. In fact, two-thirds of all falls are preventable.
According to the guideline for the Prevention of Falls published by the American Geriatric Society, All physicians should assess older patients for fall risks.

Two light weight SENSOR PACKETS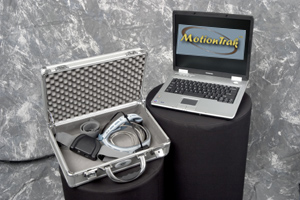 MotionTrak™ measures your patient's ability to balance by evaluating the interaction among the visual, vestibular, and somatosensory systems. Test results predict which of your patients are at risk for falling and help you decide what is the best treatment choice for each patient

.
* A notebook computer and printer provided with the system.

MotionTrak™ Test Trials
20 second epochs
4 channels of postural sway data
MotionTrak™ Protocol Test Procedure Protocols
Eyes open firm surface
Eyes closed firm surface
Eyes open foam surface
Eyes closed foam surface
Romberg eyes open
Romberg eyes closed
Results of the test worn on the back and head of one patient:
A composite score is calculated for both the back and the head.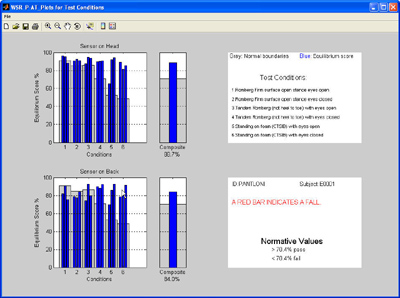 Time Plots for all Conditions:
Time plots are generated for each test condition. One graph is created for the back sensor and another graph is created for the head sensor.
The red lines represent the Roll position and the blue lines represent the Pitch position.
Roll vs Pitch Plots:
Roll vs Pitch plots are generated for the back sensor and the head sensor.